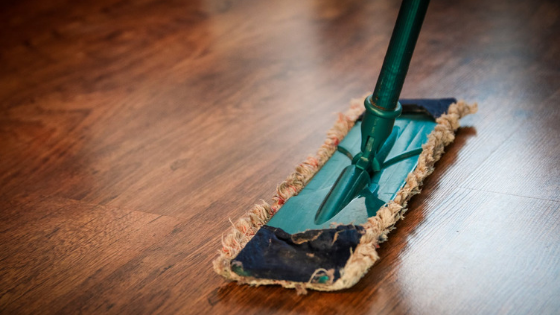 If you always want your floors to look exceptionally clean at a glance, cleaning hacks can help you achieve your goals—and save a lot of time. You just have to know which hacks to use and when to keep your floors looking incredible. To help you get started, here are a few that will work well for the floors in your Flagstaff apartment.
Use a Rubber Squeegee to Remove Pet Hair
Unless you have a zillion dollars to spend, most vacuum cleaners are notoriously bad at removing pet hair from the carpets. You can skip the need for such a powerful machine, however, by using a rubber squeegee to great effect. Simply swipe the squeegee across the top of the carpet and watch all the pet hair build up into a pile. You can then easily grab the fur and throw it away to complete this task with ease.
Ice Can Remove Gum and Glue Without Damage
To remove gum and glue stuck on your laminate, tile, or vinyl floors, all you need is a single ice cube. Hold the ice against the glue or gum-covered spot for at least 15 seconds. Once it freezes, you can gently break apart the sticky substance without harming your floors. Repeat this process until you have fully removed the gum or glue, and then wash the area with your preferred floor cleaning product.
Carpet Cleaner Perfectly Cleans Grout
If you have tile floors, you likely spend far too much time scrubbing away at the grout, trying to keep it clean. It does not have to be that way, however. Switch to aerosol carpet cleaner instead to remove dirt and stains from grout fast. All you have to do is spray the grout with carpet cleaner and allow to soak for 15 minutes. Then, scrub with the supplied brush on the cap and rinse away the residue when you are done.
Once your floors are cleaned to your satisfaction, you deserve a break. So, kick back and relax while dialing 844-825-5017 to speak to our team about upgrading your Flagstaff, AZ apartment.