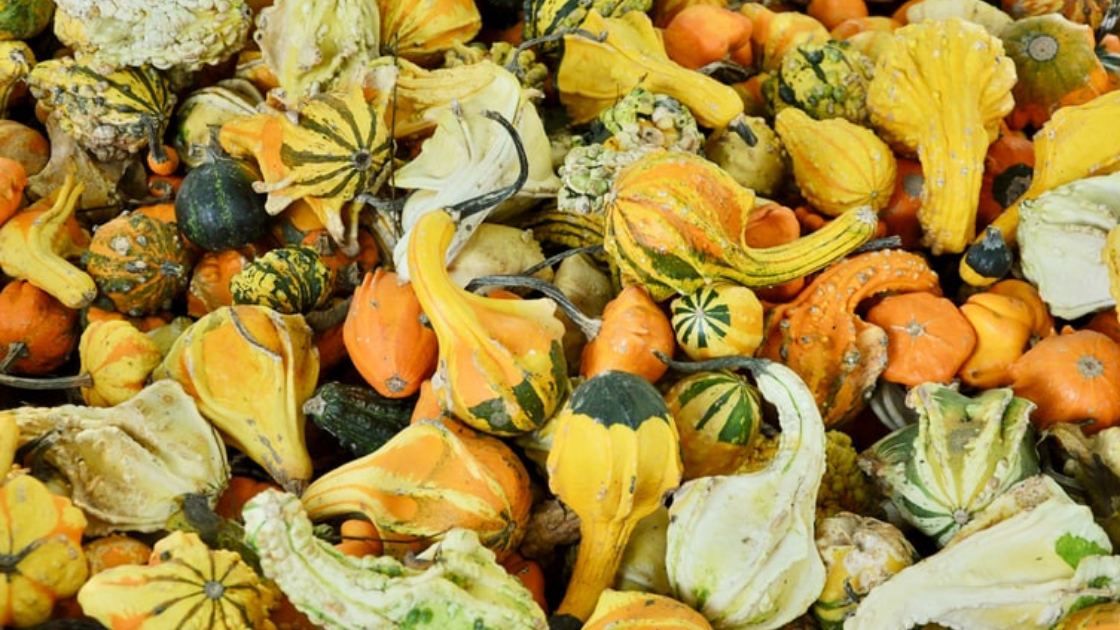 Oh my gourd-ness! Which gourd varieties should you choose this season to embrace the fall weather? Surely, you are familiar with pumpkins and standard ornamentals, but this year might be the time to branch out and explore new types of gorgeous gourds. While we can't account for particular tastes, the following kinds of gourds are some of the most popular used in autumn for decorating either in bunches, solo, or cornucopia-style.
1. Pumpkin, Meet Apple
While it might seem comparable to mating a Chihuahua with a German Shepard, if you find an apple gourd you'll immediately be struck by the intense light flecks in the flesh. While this is not an edible variety, the apple gourds are extremely popular for their use in arts and crafts. However, after a few weeks of drying out, the greenish hue will transform into a more appropriate shade of brown or orange.
2. Daisy Gourds
We associate daisies with flowers, but in the gourd scene, this open-pollinated variety simply has an unusual 'daisy-like' flower pattern on the stem of the fruit. They come in shades of yellow, green, and orange and are small enough to fit ideally into baskets or serve as complementary decorations around the home. If you choose to keep the stems attached, you can even hang them on a trellis, the patio rail, or a porch arbor.
3. Extra Long Varieties
If you truly want to have a show stopper appearance with your gourd collection, consider adding the long-handled variety, aka 'dippers'. With a bulbous end and a curved handle, you buy these anywhere between the range of two to three feet in size, so make sure to have ample space for them.
4. Speckled Swan
Add a bit of green to your gourd collection with the fascinating Speckled Swan breed. They can grow up to 8 inches across but have a flat base that allows it to serve as a perfect centerpiece for surrounding with other smaller gourds. However, the sweeping, curved base furthermore establishes elegance, so it's ideal for a dining table or mantle adornment.
Find an Ideal Apartment in Flagstaff at Country Club Vista
If you are ready to find your perfect home in the Southwest, contact us today to take a virtual tour of our available Flagstaff apartments.