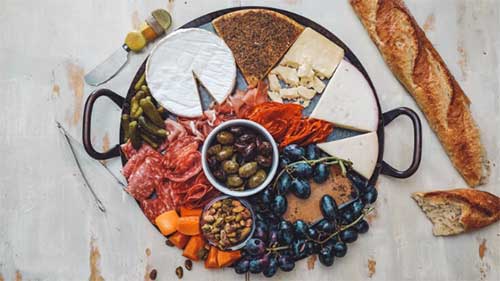 This festive and eye-catching antipasti tree will be the hit of the party when you entertain in your Flagstaff, AZ apartment. Cheese, salami, and a few other ingredients create a deliciously beautiful tree-shaped appetizer. This 20-minute masterpiece doubles as an edible centerpiece that you create right on a platter or cheese board.
Gather These Ingredients
This tasty appetizer is created with roasted red peppers, fresh rosemary sprigs, extra sharp cheddar cheese, cubed, dry salami, sliced, fresh mozzarella balls, whole green olives, drained, and thin wheat crackers. Follow these four easy to create steps:
Step One: Drain the roasted red peppers and pat dry with a paper towel. Cut peppers into thin slices. Separate the rosemary sprigs into smaller sprigs.
Step Two: Slice the salami into thin pieces. Cut the cheddar cheese into half-inch cubes.
Step Three: On the platter or cutting board, arrange the mozzarella balls as the tree's base. Above that, arrange one-third of the roasted red peppers into a narrower layer. Above the peppers, arrange the olives into a thinner layer. Above the olives, arrange a third of the roasted red peppers. Then, above that, arrange the salami. Above the salami, arrange the remaining third of roasted red peppers. Above the peppers, arrange the cheddar into a triangle shape for the tree's top. While you are arranging all layers, keep an Evergreen tree shape in mind.
Step Four: Now that you have your tree shape created, tuck the rosemary sprigs into the top of the tree and around the outside of the tree to create branches. Finally, place a short stack of wheat crackers at the bottom of the tree creating the stump of the tree. Serve with Dijon mustard and a basket of crackers on the side.
We hope our Country Club Vista community members enjoy this creative antipasti tree recipe. If you would like more information about our Flagstaff apartments, call us today.